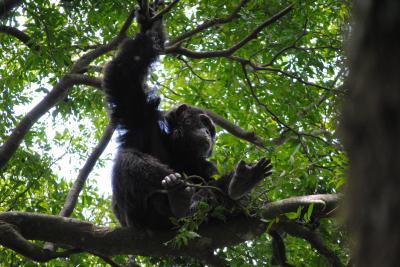 Did you know chimpanzees know how to make a bed? They might not do hospital corners, but they do seek out the most comfortable and most stable woods in the forest to construct sleeping platforms in the trees.
How do we know? Scientists from two U.S. universities measured the physical characteristics of over 1,800 chimp "beds" or "nests" in Uganda's Toro-Semliki Wildlife Reserve and found that 74% of the population choose build their beds out of rare Ugandan Ironwood over more commonly available tree species. The study suggests that the tree's stiffness and bendability along with its densely packed branches are ideal for sleeping platforms constructed in the trees.
They speculate that the great apes seek protection from predators and pathogens in the Ugandan Ironwood along with creature comforts like temperature regulation. According to Dr. David Sampson, the chimps' choosiness "suggests that for apes there is something inherently attractive about a comfortable bed." Just like humans, chimps will search far and wide for bedding that will help them sleep like a log!
Your "Forty Winks" Gift Guru
Linda