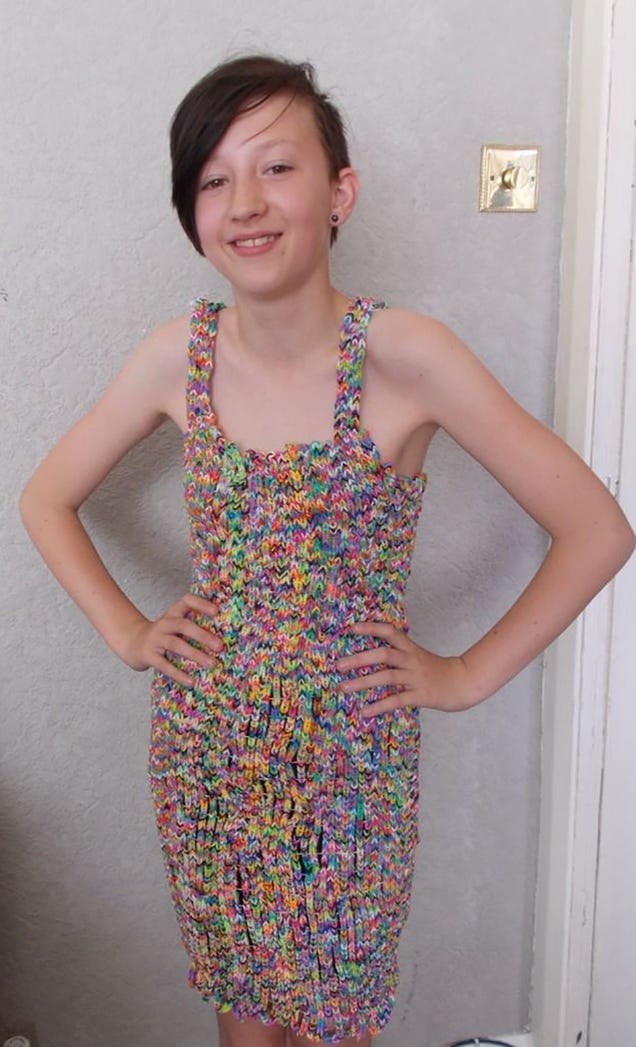 My daughter has completely fallen for the rubber band loom craze, which is more than a little surprising to us, her dear parents, because the loom has no batteries, no camera and isn't internet connectible. But she loves it, spending hours on end in her room sorting rubber bands by color and planning her next design. She's a prolific rubber band weaver, making dozens of bracelets and necklaces, anklets and watchbands and giving them freely to just about everyone she knows.
But a UK mom has taken the rubber band loom to a whole new level -- and made a BIG profit doing it. She and a friend made a dress from 20,000 loom bands and put it on eBay with a starting bid of $85. At that price, the two would have made a handy profit, but after a heated bidding war, the dress sold for a whopping $291,000! Not bad for forty hours of work.
As you can see from the picture at left, the stylish design is very colorful and looks attractive on the model. But, as someone who's watched many of my creations fall apart completely when a single band breaks, I have to wonder: what happens if one of the bands breaks while you're wearing it?
Your "Woven Wonders" Gift Guru
Linda